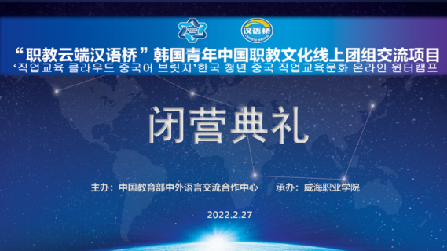 Recently, the "Encounter Vocational Education on Cloud Chinese Bridge" online group program "Chinese Vocational Education Culture for Korean Youth", sponsored by the Center for Language Education and Cooperation under the Ministry of Education of the People's Republic of China and held by Weihai Vocational College, was completed. This marks the successful completion of the two "Chinese Bridge" programs held by Weihai Vocational College in 2021. The approval of the two programs has been of great significance to international exchange and teaching Chinese as a foreign language in our college and a new breakthrough to get rid of the dilemma of international communication under the influence of epidemic situation and to creatively transform international Chinese education under the new situation.

Meanwhile, the spectacular program has drawn the attention of media, with Shandong Education Television, Weihai TV Station, and Weihai Evening zooming in the program and giving a comprehensive report on the college and the online program. The reports have helped to establish a good image for the college on overcoming the impact caused by the pandemic to deepen the international cooperation and assisting the internationalization of the city.
In the future, the college will give full play to the characteristics of vocational education and the advantages of teaching Chinese as a foreign language to spread Chinese culture to the world, display vocational education styles, and tell Chinese stories through programs such as Chinese Bridge and Chinese + Vocational Skills, which will enhance the internationalization level of the college and internationalization of the city and make a greater contribution to promoting the opening-up of China's vocational education in the new era.